Just ask our customers. We've not only had several repeat customers, but the majority of our new clients are referred to us by satisfied homeowners.

One reason for such a loyal clientele is they know we don't hand them the keys to their new home and walk away. We stand behind what we build. Our commitment to our customers continues long after their project is complete.
Read What Our Clients Think
Lake Leelanau Home
Lake Leelanau
"My wife and I couldn't be happier with our decision to have Midlake build our dream home on Lake Leelanau. Many people are quick to tell you about their horror stories associated with building a home, but with Midlake this was definitely not the case. The whole process could not have been more stress-free. In fact, we actually lived down state during the entire process. The staff at Midlake made sure that we were constantly in the loop and provided new pictures of the construction process regularly. When we drove up to check on the progress and make selections, Midlake would have our entire day organized for us to maximize the value of each trip. The crew would document each suggestion we made on our visits and, to our surprise, the suggestions would all be incorporated by our next visit. For me, one of the best parts of working with Midlake is that when you call, someone always answers the phone. The attention to detail and follow up after the project was complete were fantastic. I highly recommend Midlake".
Jason & Greta M.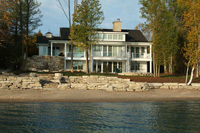 Lake Charlevoix Sanctuary
Lake Charlevoix
"When Jan and I decided to build in "Charlevoix The Beautiful", our architect encouraged us to interview 3 builders she had worked with in the past. We met with each at their offices, met their staffs, and then visited various properties they had completed. I remembering climbing in Bob's truck for the tours, and unlike the others, he was/is a man of few words. What came out loud and clear, however, was his pride of workmanship and genuine sincerity to meet the needs of his clients. Midlake was NOT the "low bidder", however, we immediately knew how we were going to proceed and we did!
Prior to Charlevoix, Jan and I "built" 4 other new personal residences and a cottage in Harbor Springs. By far, the Charlevoix project was the most pleasant experience of all. Bob and his gang made suggestions as we went along that not only saved us money, but also improved our experience. Their follow up since completion has been outstanding. Very minor problems resolved quickly, but more importantly, I appreciate the quick and sincere response when we have a question on maintenance or additional work. Bob and his gang are "like family", and we have, and will continue to recommend Midlake to anyone wanting to experience the same quality and friendly building experience in Northern Michigan!!"
John and Jan M.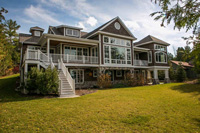 Elk Lake Living
Elk Lake
"My wife and I built our vacation/retirement home on Elk Lake. We were several-time home owners but first time builders. Several phrases or word segments need to be used about our building experience with Midlake Builders. These would include: proper planning, great communication, expert assistance during the building process, workmanship, and attention to detail."
We worked with a wonderful home designer. Coordination with this person and the builder was seamless. Midlake Builders helped us from the proper orientation of the home on the lot, placement of the driveway, drainage considerations and appropriate physical and structural details. We worked with great workmen in every phase of the construction process. The subs that were chosen from plumbing to electrical to painting were outstanding. We ended up with a wonderful finished product with great orientation, and a lot of pride in our new home.
Follow up after the build has been outstanding and we've developed wonderful friendships with many people who were part of our building process. We both highly recommend Midlake Builders and consider ourselves lucky to have found such a great building team."
Mitch and Nancy R.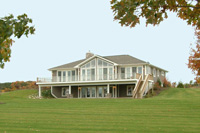 Old Mission Home
Old Mission Peninsula, Traverse City.
"Midlake Builders has never failed to impress us. They were our builders for our new house on Old Mission Peninsula. They finished within budget and on schedule. They were courteous, easy to work and very helpful with all decisions. We were already repeat customers and will always go back to Midlake Builders due to their talented professional team and the quality homes the build!"
Dick and Leslie R.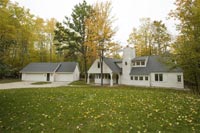 Elk Lake Family Home
Elk Lake
"The experience of working with Midlake was an absolute pleasure, and the resulting house exceeded our expectations. Our house is impeccably built in every detail, solid as a rock, stunningly beautiful and perfectly practical. The people are wonderful and their work is even better. I'd hire them again in a heartbeat."
Tracy L.
Dave and Sue C.
Traverse City
"Midlake Builders came highly recommended to us by a friend whose father is a locally retired contractor. Because of our decision to follow the recommendation offered to us, we are now enjoying a custom addition of exceptional quality that far surpassed our expectations.
The owner of Midlake Builders, Bob Schmerheim a/k/a Bob the builder, personally supervised our project throughout every phase of the building process. Because of Midlake Builders attention to detail and dedication to excellence, it made the entire building process a personal, warm and professional experience. What a GREAT team."
Dave and Sue C.
Beth S.
Traverse City
"I am 92-years-old and needed a contractor to build a handicapped addition on my house so I could remain in my own home. Midlake Builders drew up the plans and provided me with a cost estimate and projected time frame for completion. The were all very helpful and courteous to work with. Bob Schmerheim, the owner, checked every day for progress and changes. My Friends were impressed with their outstanding quality of work and their ability to meet the projected time frame."
Beth S.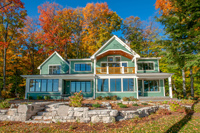 Torch Tranquility
Torch Lake
"For our 25th wedding anniversary, we decided to find a place "up north". We fell in love with Torch Lake and purchased a lot on the west side. After interviewing a number of builders, and touring their homes, we met Bob and he immediately gained our trust. This was incredibly important to us as we were planning to build a home on Torch Lake from Ann Arbor, 250 miles away! The communication was so easy, building alternatives clear, and decisions always made on time. The building process was completely un-stressful. Our home is very beautiful, and is both comfortable and practical. The finish carpentry is the best that we have ever seen. The deck on the lakeside is now our favorite place on earth to enjoy summer meals with our family. Perfect."
Mike and Pat M.
WE'RE PASSIONATE ABOUT CREATING AN ENJOYABLE HOME BUILDING EXPERIENCE.
DO YOU HAVE A CONSTRUCTION PROJECT WE CAN HELP WITH?